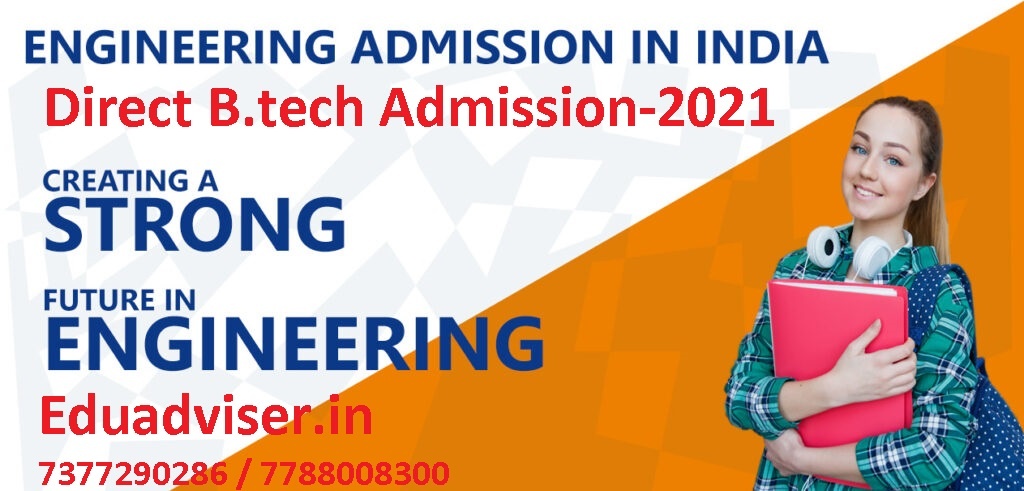 What is Direct B.Tech Admission
Direct B.Tech Admission is the procedure to get admission in Top Engineering College in India didn't not require any entrance exam/ need not required to participate in the centralized counselling process. In many states, there is an entrance exam for B.Tech admission, and some states conduct centralized counselling process for the same. But On the other hand, deemed universities conduct their own entrance exam for B.Tech admission. Candidates aspiring to join B. Tech Admission may or may not apply for the entrance exam, as direct admission can be possible without these requirements. In this article, the emphasis has been laid on the direct admission process for the B.Tech course in India.
Why student choose Direct B.tech Admission?
Due to Covid -19 Pandemic Many entrance examinations are postpone or not released schedule for entrance examination , So getting information about college and selecting the Branch is very difficult
As a result Through Direct Admission Process for B.Tech Admission, candidates have the flexibility to choose top private engineering colleges or deemed universities across India.
There are many factors/ reasons that make parents prefer direct admission in B.Tech for their children. Some of the common factors for the same include
Get College and branch as desired by student
To get admission in Your choice college and your preferred branch in top private B.Tech college is one of the reasons for direct admission preference.
Through direct B.Tech Admission , students will have the flexibility to choose any college as per their requirements and Budget. They can set the budget and list three to four private colleges, and choose the best among them. If these students take the entrance exam and participate in the centralized counselling process, he/ she will have to fill the choices, but there is no guarantee that he/ she may get admission in a college that has been chosen as first preference. In such cases, students will have to compromise with the second/ third option. Therefore When you have a direct admission option, why should you compromise?
Location Preference
"After Covid, students are preferring institutes closer home or where covid Management is good and cases are low . As a result direct B.Tech admission , you will have the flexibility to choose the private engineering college that is closer to your home or region. You can choose the college located in the city so that travelling becomes easy. You can also opt for the transport facility offered by the respective institute. However, if you are choosing a college within your city, you can choose public transport (if available) to minimize travelling costs.
Non-Appearance in JEE Main and other Entrance Exam:
If you did not apply for any entrance exam for B.Tech admission, you can choose direct admission. At the same time, if you score a low rank in the entrance exam, the best option is to go for direct admission.
What is the procedure to get Direct B.tech Admission?
Basically there are two type of procedure to get direct B.tech admission
Direct Admission through College / Management
Through US Edu.adviser.in No.1 Education Consultant
Let us Compare both the option and decide which is the better options
Direct B.Tech Seat Through Direct College Management
Go to the college Location or office
Fill the application and submit all original documents
Discuss with the college Management and get low demand seat
Pay higher donation / Capitalization for desired branch
Through US Edu.adviser.in No.1 Education Consultant
Call our Education Adviser
Discuss your desired college / Branch / Location
Set Your Budget for entire Course
Get Suggestion of seat and college and the real time status
Fill Application Form and submit soft copy of Academic document
Submit Fee to the College directly through Bank Account / Link / Student login
Receive receipt
Get assistant for entire course / Feel like local Guardian in college 24×7
May be some college student will Get FEE Discount
Direct B.Tech Admission call now- 7377290286 / 7788008300
Documents Required for Direct B.Tech Admission
Lists Of document required for Direct B.Tech Admission
12th ( +2 ) Mark sheet
10th Mark sheet
Migration Certificate
Student Aadhar Card
Parents Aadhar card
Character certificate
Lists of Top Engineering college in India
| | |
| --- | --- |
| Name of the College/University | Average Course Fee (In INR) |
| SRM University , Chennai All Campus | 1.46 LPA to 2.41 LPA |
| Siksa o Anusandhan University, Bhubaneswar | 2.29 LPA to 2.35 LPA |
| Maharaja Agrasen College of Engineering & Technology | Rs. 71,000 Per Annum (Approx) |
| Aurora's Engineering College, Hyderabad | 54K to 60K per annum |
| VelTech University, chennai | 90k per annuam |
| Gaikwad Patil Group of Institutions, Nagpur | 90K to 1.05 Lakh per annum |
| Hindustan Institute of Technology and Science, Chennai | 3.85 LPA |
| Graphic Era (Deemed to be University) | 2.26 LPA to 3 LPA |
| Shobhit University, Meerut | 1 LPA |
| Sigma Group of Institutes, Vadodara | 47K to 60K per annum |
| Marwadi University, Rajkot | 89K per annum |
| Rai University, Ahmedabad | 70K per annum |
| Sathyabhama University , Chennai | 1.5 K per annum |
| Dr. MGR University Chennai | 90K per annum |
| Vinayaka Mission University , Chennai | 60k-90k LPA |
| Amritsar Group of Colleges, Punjab | 1.2 LPA to 1.24 LPA |
| University of Petroleum and Energy Studies, Dehradun | 2.7 LPA to 4.01 LPA |
| Jharkhand Rai University, Ranchi | 60K per annum |
| Amity University, Jaipur | 1.56 LPA to 2.92 LPA |
| OM Sterling Global University, Hisar | 75K to 1.3 Lakh per annum |
| Adithya Institute of Technology, Coimbatore | 65K per annum |
These are the few list i have maintain here but we are having tie up with more then 200+ Engineering college across India
what are the branches in B.Tech ?
These are the Major branches in B.Tech
Aerospace Engineering
Agricultural Engineering
Automobile Engineering
Biomedical Engineering
Chemical Engineering
Civil Engineering
Computer science engineering
IT- / Information technology engineering
Computer Hardware Engineering
Electrical Engineering
Electronics Engineering
Environmental Engineering
Industrial Engineering
Industrial Engineering
Marine Engineering
Materials Engineering
Mechanical Engineering
Mining and Geological Engineering
Nuclear Engineering
Petroleum Engineering
Production Engineering
Software Engineering
what is student credit card scheme?
As we know Many students who come from economically weaker sections could not complete their higher education due to a lack of money.
As you know how expensive it has become to do higher education and also professional courses, the fees are very high.
About 24 percent of students in India go for higher education, while only 14 percent of students from Bihar are able to go for higher education,
Lack of money is a big reason for this, so the Bihar government decided to start different schemes to provide financial help to students in higher education.
When Nitish Kumar again became the Chief Minister in the year 2015, he had announced his seven pledges, one of which was the economic solution to the youth.
Student credit card Key Points
These are the key highlights of the BSCC
| | |
| --- | --- |
| Scheme Name | Bihar student credit card (BSCC) |
| Who can get the benefit | All students of Bihar for Higher education |
| Where students should take admission | Anywhere in Bihar or in India in Recognised institution. |
| what are the courses comes under BSCC | almost all professional courses, such as Engineering, Polytechnic, Medical, MBA |
| Maximum Loan Amount | 4 lakhs |
| How to Apply | Online only |
| Documents Required | All general documents, such as- Aadhar, 10th mark sheet |
| Repayment of Loan | After the completion of the course, and Employment |
| Benefit for Abroad Study | Yes, the benefit can be availed for some courses and colleges |
| interest rate | 4 % for boys, 2 % for girls |
Direct B.Tech Admission 2021 – Through student credit card
Who can get the benefit of the Bihar Student Credit Card Scheme- Eligibility for BSCCS Scheme
Bihar Student Credit Card Scheme is for all the students of Bihar. The condition for availing this scheme has been placed on the economic level and not on the basis of caste or religion.
Any student can avail this scheme based on the following conditions-
The annual income of the student's family should be less than 50000.
Students should have done their 10th and intermediate studies from a recognized board from Bihar.
The student should take admission in a recognized institution, in Bihar or outside of Bihar (in India) for higher education.
Those who are already studying can also apply for this Loan.
General category students can also apply for this scheme if their family income is less than 50000 per year.
Applicant's age should be less than 25 years on the date of application.
The applicant must be a resident of Bihar.
The applicant has not taken advantage of any other student welfare programs already run by the government.
Student admission should not be under management quota.
Students Willing to Study Abroad Also can Avail student Credit card Scheme.
How much loan will be given under the Bihar Student Credit Card (BSCCS) Scheme?
Under the Bihar Student Credit Card Scheme, you are given an education loan up to a maximum of ₹ 400000 and you can also take a minimum of ₹ 20000 if you want.
The Bihar government has tied up with different banks for this.
Assuming that if you take a student credit card loan of ₹ 400000, then this amount will be allotted to you, and you can pay your fees during the first year or after during your course according to your needs.
which courses can you get the benefit of Bihar Student Credit Card Scheme-
Under the BSCC scheme, you can do Engineering, Graduation, MBA, MSc, MBBS, BDS, Hotel Management, B. Ed and many other professional courses.
All the courses and their duration are listed below-
Course
Duration
B.A./B.Sc./B. Com.(All subject)
3 years
M.A./M.Sc./M.Com(All subject)
2 years
Aalim
4 years
Shashtri
7 years
B.C.A.
3 years
M.C.A.
3 years
B.Sc. (Information Technology/ComputerApplication/Computer Science)
3 years
B.Sc. (Agriculture)
3 years
B.Sc. (Library Science)
3 years
Bachelor of Hotel Management & Catering Technology (B.H.M.C.T.)
3 years
B.Tech/B.E. (Engineering)
for laterally admitted candidates having a degree of threeyears of diploma courses approved bythe State Technical Education Council
4 years
Hotel Management and Catering Technology
3 years
Hospital and Hotel Management
3 years
Diploma in Hotel Management, (I.H.M. Course)
3 years
Bachelor in Yoga (Entry Level+2Pass)
3 years
M.B.B.S.
5.5 years
B.Sc. (Nursing)
4 years
Bachelor of Pharmacy(B.Pharm)
3 years
Bachelor of Veterinary Medicine and Surgery (B.V.M.S.)
3 years
Bachelor of Ayurveda, Medicine, and Surgery (B.A.M.S)
5.5 years
Bachelor of Unani Medicine & Surgery (B.U.M.S)
5.5 years
Bachelor of Homeopathic Medicine & Surgery (B.H.M.S.)
5.5 years
Bachelor of Dental Surgery (B.D.S.)
4 years
General Nursing Midwifery (G.N.M)
3 years
Bachelor of Physiotherapy
4 years
Bachelor of Occupational Therapy
3 years
Diploma in Food, Nutrition/ Dietetics
3 years
Bachelor of Mass Communication/Mass Media/Journalism
3 years
B.Sc. in Fashion Technology/Designing/Apparel Designing/Footwear Designing
3 years
Bachelor of Architecture
5 years
Bachelor of Physical Education (B. P. Ed.)
3 years
M.Sc/M.Tech Integrated course
(admission after +2)
5 years
Diploma in Food Processing/ Food Production
2 years
B.A./B.Sc.-B.Ed. (Integrated Courses
4 years
Bachelor of Business Administration (B.B.A.)
3 years
Master of Business Administration (M.B.A.)
2 years
BL/LLB (integrated Course)
5 years
Degree/Diploma in Aeronautical,Pilot Training, Shipping(Bsc Nautical)
4 and 3 years
Polytechnic
3 years
Direct Admission B.teh -2021 through student credit card
Documents required for Bihar student credit card scheme-
Following Documents are Required for the BSCCS-
Aadhar card of applicant and parents
Pan card of applicant and Parents(co-applicant)
10th and 12th certificate and Mark sheet (10th only in case student wants to Join Polytechnic course)
Copies of letter conferring Scholarship etc. (If available)
approved course structure
Admission proof
Fee schedule(structure)
2 passport size photograph of Student and parents
Form 16 (income certificate of parents)
Last 2 years income tax return(if available)
Last 6 months bank statement
Proof of residence(voter ID, Driving license, Passport)
Proof of Identity for both, student and parents.
How to Apply Bihar Student Credit Cards? Know the steps
students should follow the following process to get the benefit of BSCCS-
Step- 1
Visit the official website of Bihar student credit card- https://www.7nishchay-yuvaupmission.bihar.gov.in/
Step- 2
Click on the New Application Registration Button.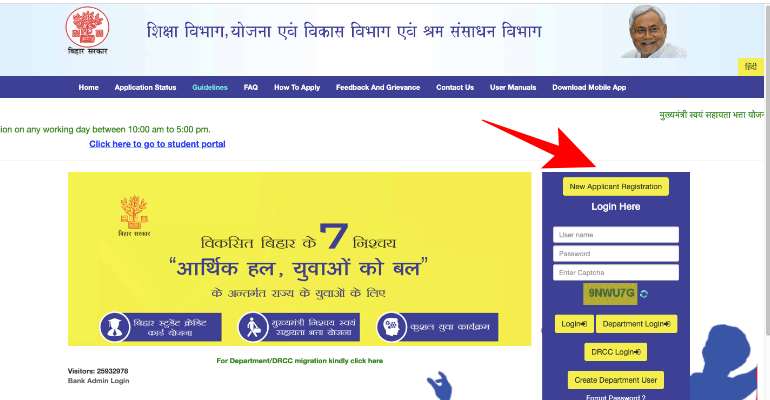 Step – 3
Fill Your General Details, such as- Name, Mobile no., Email ID, Aadhar no., to get the OTP on Mobile and Email ID.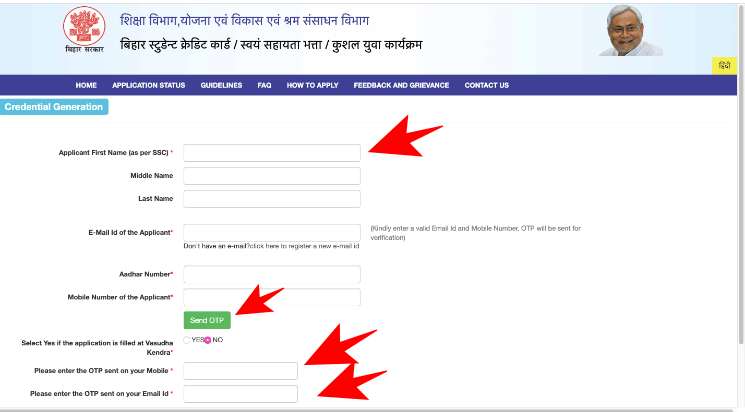 please note that– you will get separate OTP on your Mobile and Email Id. to complete the registration process you have to enter both OTP, so provide the correct Mobile no. and Valid Email Id.
Step – 4
press the get OTP tab and confirm the declaration Pop Up Box. also select the desired Scheme. (BSCC for Bihar student credit card)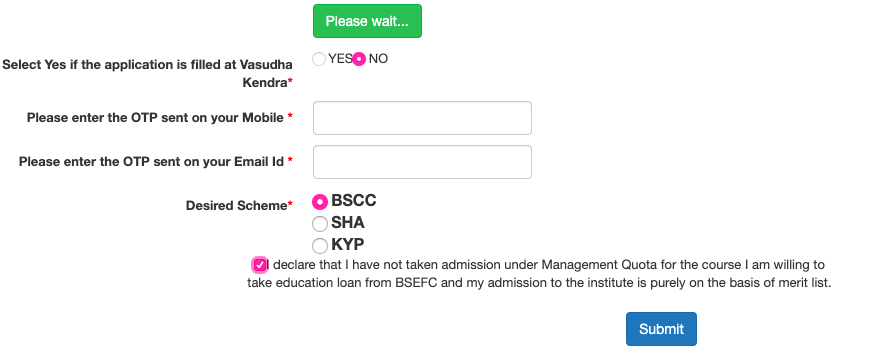 Step – 5
after the submission of your Mobile and Email OTP, you will get the confirmation message on the screen.
you will get your User ID and Password on your mobile and Email Id.
please note that- you have to declare that your admission is not under management quota. (the student credit card scheme is not for Management quota scheme)
Step – 6
Login on the Home page of BSCC, with the user id and password provided.
you can change your password to your desired one, but you can not change your USER ID.
Step- 7
Now you have to fill your complete personal and Educational Details.
you also have to provide your parent's details. in the provided box share your Family income details.
you have to share details about the course and college you going to join.
Step- 8
one you will provide the complete detail, you can click on the SUBMIT button, where you will get the confirmation of your Application.
please note that – your Father and Mother will be your Co-applicant for this education loan, so please fill up all their details carefully.
what is the benefits of student credit card ?
This scheme is for all students of Bihar.
Any student can apply for education loans under this scheme on the basis of their family income and not on the basis of caste or religion.
no need to go to the bank.
almost all courses come under the BSCC scheme.
Repayment only after course completion and getting a Suitable job.
less interest rate.
If the student does not find a job, then the education loan can also be forgiven.
For more information and Direct Admission Contact us 7377290286 / 7788008300